Our Mazda Wagyu Properties are Located in Rural Southeastern Victoria
Mazda Wagyu Stud was established in 1997 by the Reed family and comprises two properties covering 453 hectares (1120 acres) in the East Gippsland district.
The home property is situated at Mossiface, 3.5 hours east of Melbourne and 20 minutes from the regional city of Bairnsdale. Here donors are programmed for embryo collection and recipients are implanted.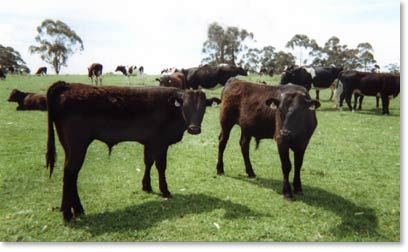 Fullblood Black Wagyu Bulls with their surrogate mothers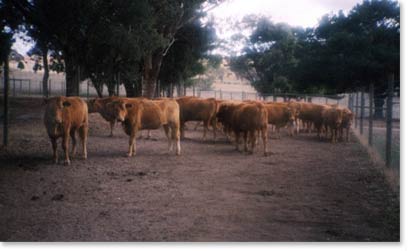 Fullblood Red Wagyu Heifers
Pregnant females are then transferred to Marlo which is heavy carrying cattle country, well sheltered with an average annual rainfall of 40 inches.
The Reed family has been in the cattle industry for over 30 years. They made the transition from Angus to Wagyu cattle after becoming convinced of the superior qualities of Wagyu, and the benefits to be gained from crossbreeding with traditional British and European breeds. They now operate exclusively with both black and red Wagyu cattle, selling embryos, semen, and live animals to the local and export markets.