Information about our Black Japanese Wagyu
Mazda Waygu Stud initially purchased three imported full blood females from Mr Shogo Takeda of Takeda Farms and embryos from Tajima, Kedaka and Shimane strains of Wagyu. Expansion has continued with embryo transfer programs conducted from an elite selection of donors who have conformation, performance and carcass feedback. We have upgraded our genetic base with the introduction of proven bloodlines.
Sires chosen which have had a great influence in our breeding programs are:
Itoshigenami TF148
JVP Fukutsuru 068
Itoshigefuji TF147
Itozurudoi TF151
TF Itohana 2
JVP Kikuyasu
TF Itomichi 1/2
TF37 Kikuhana
Embryos are implanted into our specific herd of Holstein/Wagyu females bred to become recipients.
Since 1997, we have endeavoured to produce progeny which has good frame size, milking capabilities to rear a calf and high marbling ability. Sires are selected on performance based data ensuring highest results in the production of embryos, semen and livestock.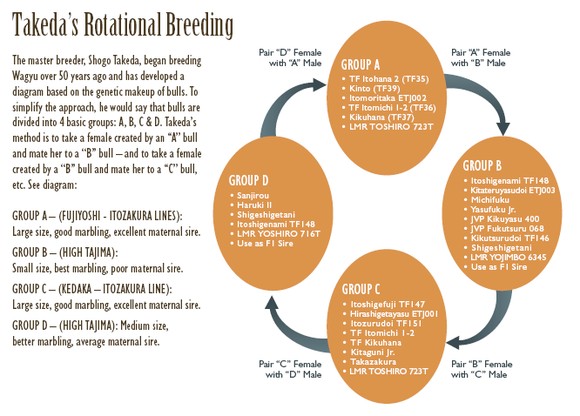 MazdaWagyu Animal Listing on The Australian Wagyu Association
Black MazdaWagyu Animal Listing on The Australian Wagyu Association
Our selection of Black Wagyu Donors

Id

Name

TF KINNTOU 35/13

TF TETUFUKU 43/4

GENOA

NICHOLSON

SALE

PAYNESVILLE

BENA

MIRBOO

FORGE CREEK