Export quality Red and Black Fullblood Wagyu Embryos, Semen and Livestock
Mazda Wagyu International Pty Ltd is a privately owned family company established in 1997 for the sole purpose of producing red and black Wagyu genetics and feedlot steers for the Japanese market. The principal, Robert Reed has been involved in the agricultural industry for forty years and his two sons are also engaged in the commercial operation. The organization comprises two properties covering 450 hectares in the East Gippsland district of South Eastern Australia.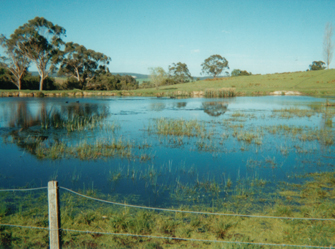 The home property is situated at Mossiface where donors are programmed for embryo collection and recipients are implanted and then transferred to Marlo, which is heavy carrying cattle country, well sheltered with an average annual rainfall of 40 inches. Mazda Wagyu at Mossiface is accredited for the production of embryos by AQIS, Australia's quarantine service, and sires are held in collection centres also approved by AQIS. Export quality genetics are produced for countries in the EU, Asia, South and Central America as well as South Africa. Live shipments have been dispatched by air to several Asian countries. The largest consignment of black and red Wagyu to leave Australia for China was concluded successfully in late 2007. Our breeding programs consist of the very best Takeda Farm and Kumamoto Red bloodlines thus giving us exceptional fullblood progeny for use as seedstock and feedlot cattle.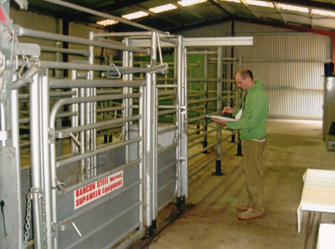 Dr Andre Cirone conducting AQIS Audit
For more information about Mazda Wagyu, please see our About Mazda Wagyu page. If you would like to learn more about the beef itself, see our page on Wagyu Beef. If you are interested in purchasing our produce, please click here to buy our produce.
Thank you for taking the time to visit our site.